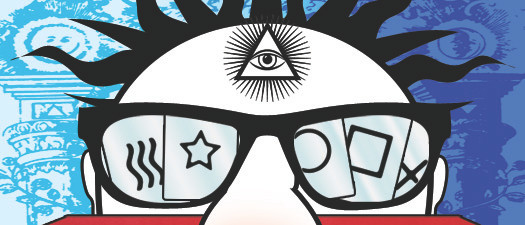 June 15-25 is the Ottawa Fringe Festival, a theatre festival like no other. Come see my New show "For PSY Kicks."
Are you troubled by strange dreams in the middle of the night? Do you experience feelings of knowing in your home or at work? Have you or your family ever moved, an object, trinket or item with your mind? You still could be psychic and not even know it.
 Don't wait another minute! Watch an eccentric scientist's search for definitive proof of psychic abilities in the only place he can… the audience. Doctor Von Malarkey has lost all credibility and is at the end of his rope with one final chance to prove his hypothesis to everyone and, more importantly, himself. This play is part Bill Nye/Beakman's World and part 'Penn and Teller's Fool Us' but all tomfoolery.
Watch local performer and Fringe veteran Mike Kosowan combine pseudo science, historical truths, and slight of mind trickery into an experience that will melt your mind. But you knew that already… so you might be psychic after all.
As seen recently in: Dr. Weird & the Megaverse of Mayhem, Saunders Farm (2022), and HALO, 9th Hour Theatre (2020); previous Fringe shows: Timmy the Dog Disappears, Blacksheep Theatre, (2019); ExDEMONators, Leaping Mammal Collective (2019); Faris Who Talks to Rats, Theatre Underground (2018); Incognito: in Wishy Washy, KosoWHAT (2017); and Jesus Christ Private Investigator, GRIMprov (2016).
"Kosowan is incredibly charming on stage which undoubtedly comes from his years of work within the Ottawa improv community and with his other troupe Grimprov. " - Brie McFarlane, The New Ottawa Critics (2017)
"Right from the get go, Kosowan has the audience in stitches[...] I could tell that this show would lock in at a high 4/5." - Joseph Hutt, On Stage Ottawa (2017)
"Mike Kosowan is saving the world one clown show at a time." - David Currie, Apartment613 (2017)
This isn't just 'for psychics', you'll get a kick out of it to!
Venue: Studio 1201

June 2023
| | | | | | |
| --- | --- | --- | --- | --- | --- |
| Thu 15 | Sat 17 | Sun 18 | Tue 20 | Thu 22 | Sat 24 |
| 8:30pm | 2:00pm | 5:30pm | 9:30pm | 11:00pm | 8:00pm |
Get your tickets here: